Our team here at In The Event™ had a great time planning an event for EPIN (Event Professionals Industry Night), which was recently held at The Urban Loft located in downtown Salt Lake City. We tried to create a clean, modern vibe to accentuate the rich architecture of the space. When it's not being used for an event or meetings The Urban Loft is called The Gym, which explains the basketball hoops inside. Instead of trying to hide the hoops we created a shimmering net of beads from the rim to the floor, which seamlessly turned a possible eye sore into a head turning light fixture.
Another great piece we brought to this event was the oxygen bar. For those who haven't heard of or have never used an oxygen bar it should be next on your list! Attendees can try various scents through personal breathing tubes. A unique and refreshing experience that won't just keep your guests happy, but actually has health benefits!
Not only will the oxygen rejuvenate your body it also helps generate energy and metabolize food. Our premier oxygen bar rentals also provide out-of-state guests with an easy way to acclimate to the higher elevation.
At the end of the night our oxygen bar was a huge hit and a key interaction point for guests. With the nose hoses pumping out 90% pure oxygen flavored with therapeutic-grade essential oils we serviced over 150 guests with our 12-person oxygen bar throughout the evening.
Thinking of renting an oxygen bar for your next event? We rent our oxygen bars for events and meetings in Utah and nationwide, so give us a call to get started on hosting a great interactive event for your guests!
We have expanded our floral department! After increasing our inventory in January we have been able to create some stunning arrangements.
To see the full gallery visit our Floral Arrangements album.
In The Event™, a full service event production and design house has expanded their rental inventory with new spandex frames and wraps. These spandex structures are fully customizable and can be printed in any color. These structures are being added to an existing inventory of spandex arches, curved LED walls, spiral columns and gazebos. The new spandex frames and wraps include: serpentine walls, lipped walls, banner stand skins, podiums and an arched wall. These can be lit up using wireless LED lights and used to video map on making them useful for virtually any event. These structures are being added to an existing inventory of spandex arches, curved LED walls, spiral columns and gazebos.
Read the full press release here.
Outdoor Retailer Convention's winter market was held in Salt Lake City, January 22nd through the 26th. Teva shoes, an Outdoor Retailer vendor, kicked off their new shoe line with an industry party, held at Club Elevate. In The Event™ partnered with Events by LMG to bring event decor and entertainment for a successful event. Outside the club was a 16' arch customized with Teva's logo. Once inside, attendee's walked through a hallway featuring glowing LED light display panels, Teva shoe displays, and video touch monitors. Overhead were floating spandex walls complete with a custom Teva runner.
Inside, where the main event was held, attendees were surprised with a concert from 80's rock band, Quiet Riot. To complement the rock and roll vibe, In The Event™ wrapped glowing columns with graphics to look like stereos and boom boxes, featuring Teva's new shoe line as shoes were placed atop the towers on silver poles. This event was the perfect way to showcase Teva's amazing new products!
In The Event™, a full service event production and design house, has the ability to provide clients with a full 3D rendering of their event. The company specializes in corporate events, ranging from small holiday parties to conventions with 10,000+ attendees. They provide high quality 3D renderings for their clients that are to scale for the event space, showing all event decor and details. In The Event™'s 3D rendering capabilities enable the company to lay out the rental items within a space prior to an event, ensuring their are no surprises to the client on the day of.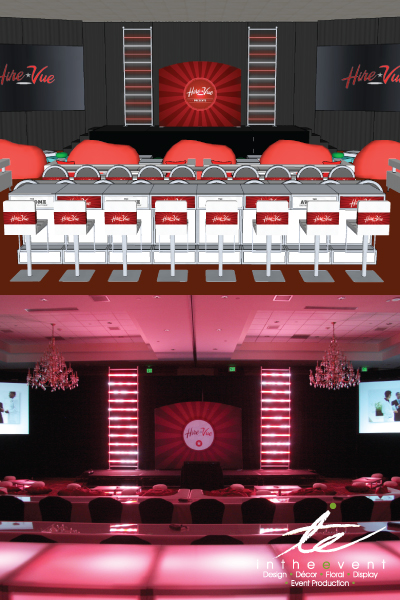 Chad Braithwaite, our good friend and owner of Chad Braithwaite Faces Photography, recently showcased his talent at Salt Lake's Premier Wedding Show. Held at the Joseph Smith Memorial Building in Downtown Salt Lake City, In The Event™ provided decor and furniture to compliment Chad's already fabulous work. The focal point of the booth was two custom printed spandex curved walls printed with Chad's photographs. To further showcase his work, we provided two touch screen video monitors so the brides to be could preview his portfolio. Other event decor elements provided for Chad's booth were a 16' spandex arch, a shimmer chandelier, and two white leather sofa's along with glowing LED side tables. With a touch of modern and elegance, the booth was the perfect way to portray Chad's talent!
With the opening weekend of the Sundance Film Festival in full affect, Chase Bank sponsored the premier for the film Touchy Feely at The Shop Yoga Studio. In The Event™ helped make this a successful premier by providing fresh floral centerpieces and LED modular furniture. Our fresh floral centerpieces included two different coordinating arrangements; twelve table arrangements and three buffet arrangements.
The table centerpieces were made with a base of hydrangea's and had calla lilies and tall LED wrapped silver branches in the middle. The buffet centerpieces had clear and blue crystals at the bottom of the trough and featured floating mum's and orchids along with our new floating LED twinkle lights! Atop the trough were silver branches that held calla lilies and orchids. For the LED modular furniture, we supplied four high boy's and one 18' bar. Our fresh floral centerpieces and LED furniture were a great compliment to this movie premier.
With the Sundance Film Festival starting on January 17, Allianz Insurance celebrated early by throwing a movie themed party, the weekend prior, for their FMO's (Field Marketing Organizations).  In The Event™ helped bring their event together by providing furniture and decor for the entrance foyer and the ballroom.
The entrance foyer made a big statement with a red carpet and a tiered, marquis style tower with graphics; followed by a step and repeat photo-op.  For the attendee's entertainment there were pool tables, one 12' bar, and one 6' oxygen bar. Also in the foyer was white leather lounge seating and video towers playing clips of previous FMO parties.
Inside the ballroom there were two 16' bars on either side of a black and white checkered dance floor.  The bars were complete with directors chairs customized with Allianz logo.  On the dining tables, non-floral centerpieces were themed around award winning movies.  Keeping up with the movie theme, there were movie posters placed around the room.  The event was a great way to conclude the Allianz Insurance conference!  Like us on Facebook to see more pictures from this event!
For the second year in a row, In The Event™ contributed to the annual Champagne Party hosted at the Salt Lake Hardware Building.  The Champagne Party, held on December 29 this year, benefits Crossroads Urban Center, a nonprofit that assists low-income people in Salt Lake City and throughout Utah.
In The Event™ provided the decor for the event, utilizing our LED highboys and bars, as well as our white leather furniture for lounge seating.  Additionally, our design team coordinated the linens and non-floral centerpieces. The table linens were ivory with an apple green overlay and gold chair ties.  Coordinating with the chair ties were gold gems in champagne glasses placed on top of our ITE LED light boxes.  Greenery vines accented both the table and buffet centerpieces.  An iron stand with branches and hanging gems served as the buffet centerpieces, atop ivory linens and a green overlay.
While we love coordinating and designing events from top to bottom, we also love working with venues, caterers and other event professionals to provide some of our amazing and unique rental inventory items.  Often times, In The Event™ provides rental items to assist in completing the look of an event, from a VIP lounge area, to LED highboys or chandeliers to accentuate the theme.  With three large warehouse spaces, and plans for expanding into a fourth, we have a plethora of unique rental items! Check out the pictures below to get a glimpse of some of the rental items we've provided in the past couple months.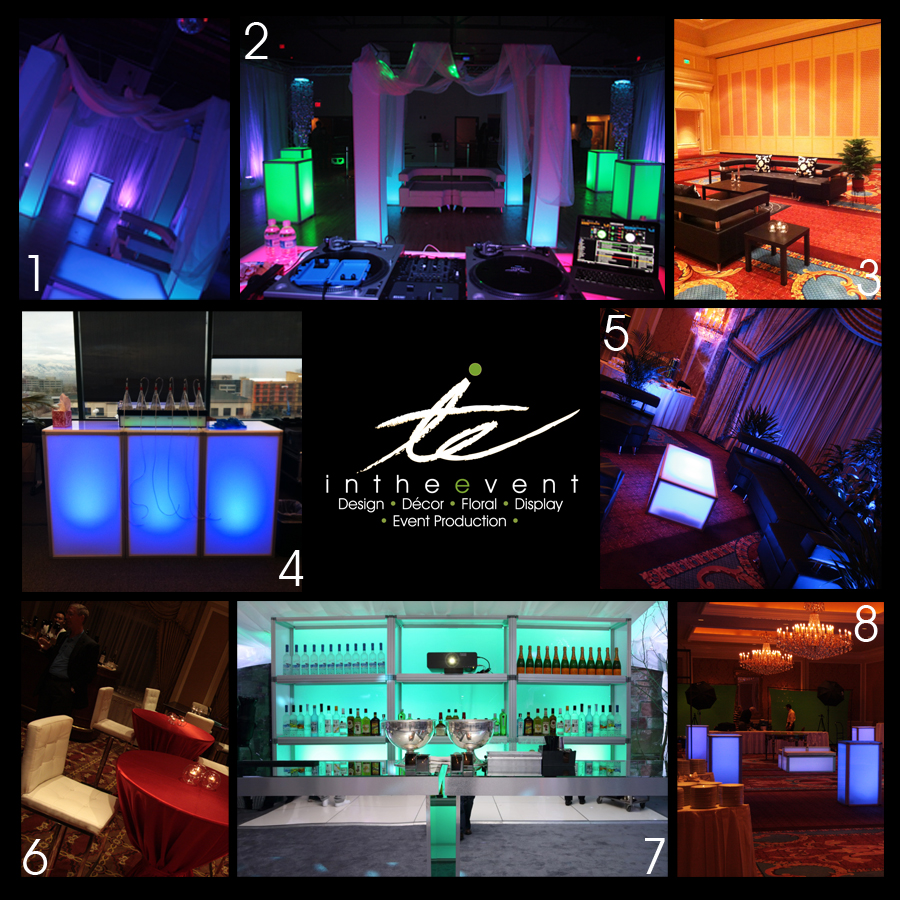 In The Event™ had a very busy December with holiday parties, event rentals, and preparation for Sundance, Outdoor Retailer, and New Year's Eve events.  We produced another fantastic holiday party, shortly after we sponsored the Equality Utah Holiday Soirée, at the Gallivan Center.
The holiday party was for Triple-S Steel/Intsel West, a steel supply and metal fabrication company with offices throughout North America.  The look for the evening included red linens, custom steel centerpieces surrounded by greens, holly and LED tea lights, 7' shimmer chandeliers, a 12' x 8' LED stage, holiday buffet centerpieces and light boxes to compliment the buffet area.  The food, provided by Utah Food Services, was fantastic! Check out our Facebook page for more pictures from this event!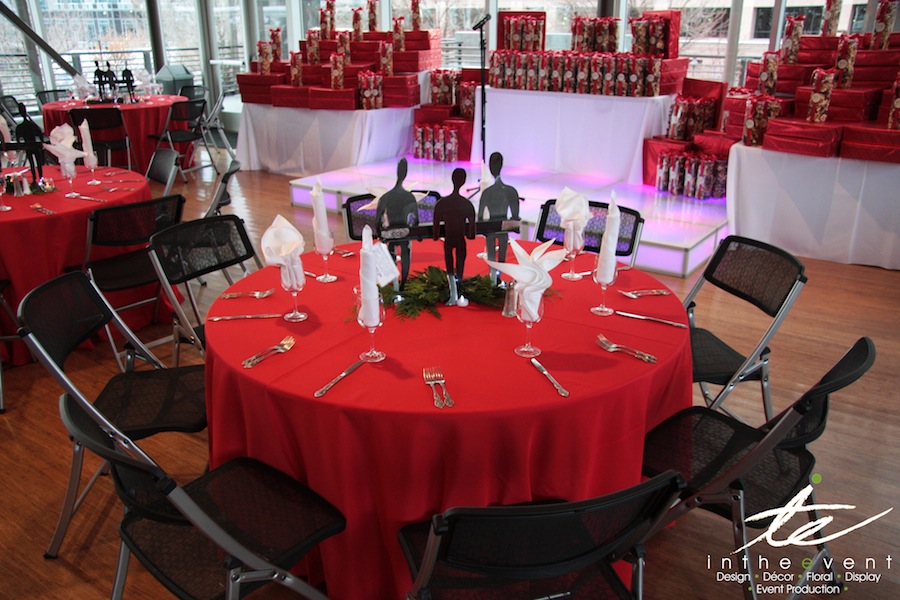 Looking for a fun way to celebrate with friends or family this week? Check out the Powder Champagne Ice Lounge at Waldorf Astoria Park City!
The incredible ice sculpture company we partner with here in Utah, created the 14' bar and sculpted lounge furniture for the ice lounge that will be present at Waldorf Astoria this Winter season.  We work with some of the best ice sculptures in the country, and the custom bar is absolutely stunning!
In The Event™ utilized our wireless LED lighting to make the bar and lounge area really GLOW!  The lounge is open every Thursday, Friday, and Saturday evening.  Check it out this winter season to get a glimpse of some of the unique work In The Event™ does.