We always love the chance to help out with a wedding! Gina and Eric worked with In The Event™ to create a beautiful space for their special day. Our simple and modern decor really worked well in this open and beautiful venue!
Small buffet with large floral arrangement and smaller ones on top of LED accents.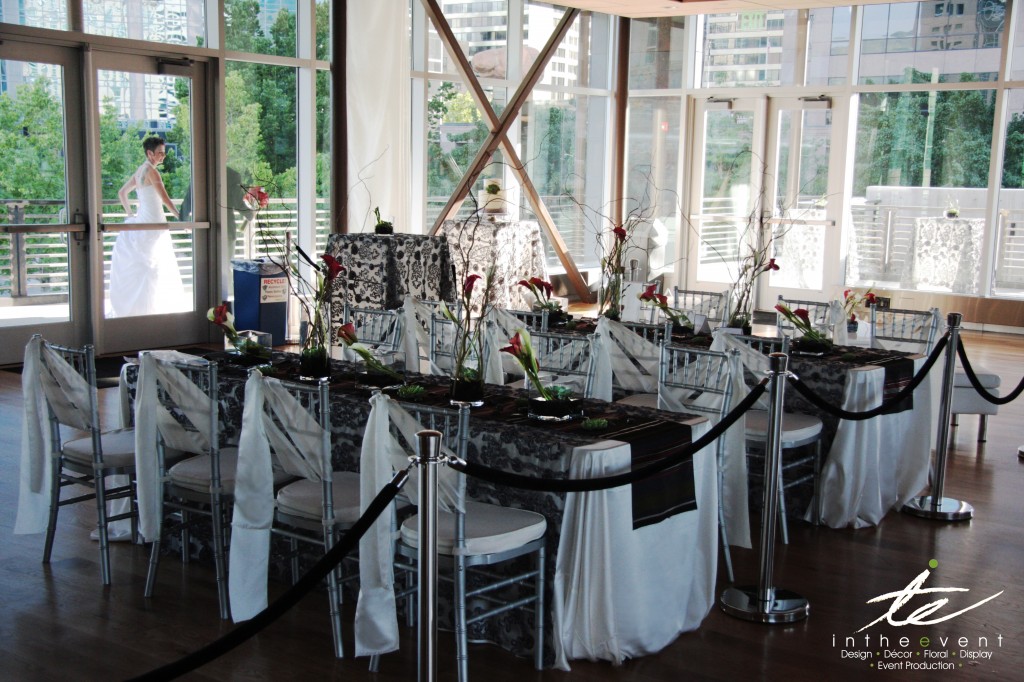 Dinner tables set up with the happy couple hidden in the background.
Close up of the tables with floral arrangements.
These cool hanging succulents really added something special to the decor.
Looking for more wedding inspiration? Follow In The Event™ on Pinterest!
What is more important, the stage or the seating? We can't decide but we are positive both have to be on point. At the SendOutCards 2013 Annual Convention we made sure to make this VIP Lounge the best seat in the house. Comfy, modern white couches with modular LED tables were there for drinks and snacks.
We completed this event's décor with a clean floral arrangement next to personalized name cards.
Want to see a VIP lounge like this at your next event? Contact us to talk with our experienced event coordinators! 
Our modular furniture is dynamic. We have designed many different set ups and the possibilities are vast. We had a large party and this modular bar set-up worked perfectly to accommodate the large number of guests!
Our LED lights can be set to change colors, which creates an awesome look for any event. The mood of the party and the music playing can also be accented with the furniture wirelessly!
Check out what else we can come up with!
After a long few days of meetings, the International Society for Magnetic Resonance in Medicine, or ISMRM, winded down with some entertainment for their closing party. We were asked to cater to the international crowd of about 3-4 thousand and decided to use world renowned Hollywood legends.
George Burns
When dealing with an audience like this we like to offer many forms of entertainment scattered throughout the crowd. Our rented actors wore giant replica heads of the famous Hollywood legends and meandered through the crowd allowing the guests to interact with them and their colleagues as well. These charismatic and animated characters gave guests great conversation pieces as well as some good laughs. Renting entertainment for an event always keeps guests excited.
Marilyn, Cher, and David dancing with guests.

David Letterman and Marilyn showing off their moves.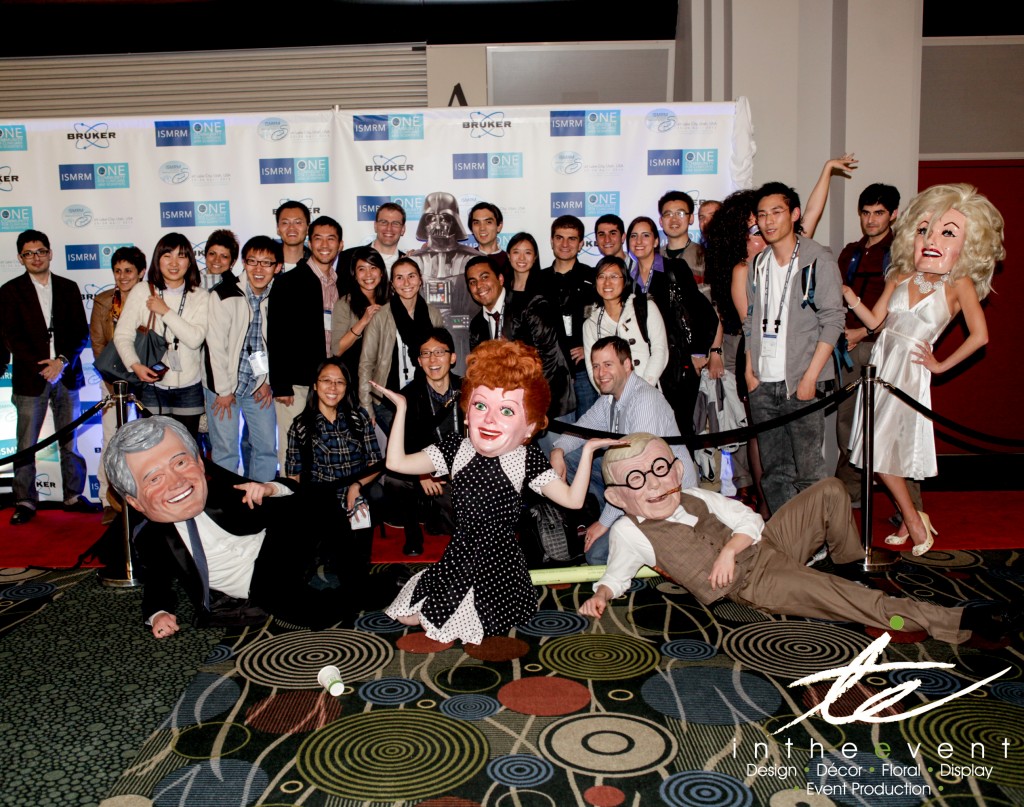 David Letterman, Lucille Ball, George Burns, and Marilyn Monroe.
Surprise! Sadie's mom asked In The Event™ to plan a last minute surprise Sweet Sixteen for her princess. Our ability to put last minute events together was put to the test and we ended up with a modern party with some great décor. The dining table floral arrangement matched the lights and theme perfectly.
White leather modular furniture, LED side tables, and LED hi-boys all surrounded our awesome LED dance floor. Glow furniture adds great minimal light to a dance party and guests love the glamorous feel. The Hotel Monaco helped us with the space and their catering risers and our modern décor created an edgy display for all the tasty snacks offered.
After entering through our shimmer curtain entrance lit in pink our birthday girl had a great time dancing the night away with friends and family. Our modern lounge gave guests a comfortable space to relax and rest from dancing.
Our LED dance floor will always keep the party going!
[vc_empty_space height="20px"][vc_row row_type="row" use_row_as_full_screen_section="no" type="full_width" angled_section="no" text_align="left" background_image_as_pattern="without_pattern" css_animation=""][vc_column width="1/4″][/vc_column][vc_column width="1/2″][button size="big_large_full_width" target="_self" hover_type="default" font_weight="700″ text_align="center" text="Rent LED Flooring Here!" link="http://intheevent.com/product/led-modular-floor-panel/" color="#ffffff" background_color="#000000″ hover_color="#000000″ hover_background_color="#81d742″][/vc_column][vc_column width="1/4″][/vc_column][/vc_row]
[vc_row row_type="row" use_row_as_full_screen_section="no" type="full_width" angled_section="no" text_align="left" background_image_as_pattern="without_pattern" css_animation=""][vc_column][vc_column_text]
Why rent a LED dance floor?
In The Event™ likes to keep guests dancing on nothing but the best high-end LED dance floors. Made up of 2'x2' squares, the floor can be configured and customized to any shape. Complying with ADA standards, no railing or step is needed to get on this 8" high floor.
The event lighting keeps the floor glowing and guests dancing all night. Clients and industry partners often call upon In The Event™ to take their event to the next level with this dance floor. Its ability to be customized to any size lets us use it for any event. Recently we made a Sweet 16 that was made special by keeping the kids' active and dancing. From hotel ballrooms, outdoor lawn parties, personal residences, to warehouses and conference halls, this floor brings the party.
Light Up The Night With LED Panels
Whether you're hosting a private party, corporate event, or product display, we've yet to see an event that could do without one of our custom LED modules. With 2' x 2' acrylic panels, our LED panels have been put to the test with everything from late night dance parties to exotic supercars. Whatever the space, our event planners can build your dance floor to fit your venue and we can always alter light colors and patterns to fit right in with your theme!
From hotel ballrooms to outdoor concerts, our LED dance floors have made quite the splash both here in Utah and throughout the United States. The sky is the limit for our team when it comes to incorporating a dance floor at your event. We've even installed a custom, permanent dance floor for a private residence!
Create Custom Dance Floors, Stages, Stairs, and more
Ready to build your own? Our LED Modular Panels can be customized to create any sized dance floor and can be lit with a variety of different colors and patterns. Our graphic designers can also adhere custom graphics to the acrylic panels for event signage, company logos, or some extra flare! The best part of our dance floor? It's 100% wireless. You can put your wireless LED dance floor anywhere you'd like without worrying about the nearest plug, guests tripping on wires, or safety issues. It's clean shape and design was intended to give guests the experience of a glowing dance floor without the hassle of wires and safety concerns.
'It's All About Time' was the theme for this year's Overstock Partner's Summit. Our team at In The Event™ was excited to take on this design challenge. We came up with a clock-wearing rabbit, a tea-drinking mad hatter, a sly Cheshire cat and some florals to match. You guessed it; this event's theme was designed around the Mad Hatter and Alice In Wonderland.
The theme carried from registration to the closing party of the Summit. First impressions mean the world and an event needs to make a strong one. Our registration counters were dressed up with customized, themed imagery and also easy to read signs that directed guests. Functionality and appearance are each important, and we were able to address both.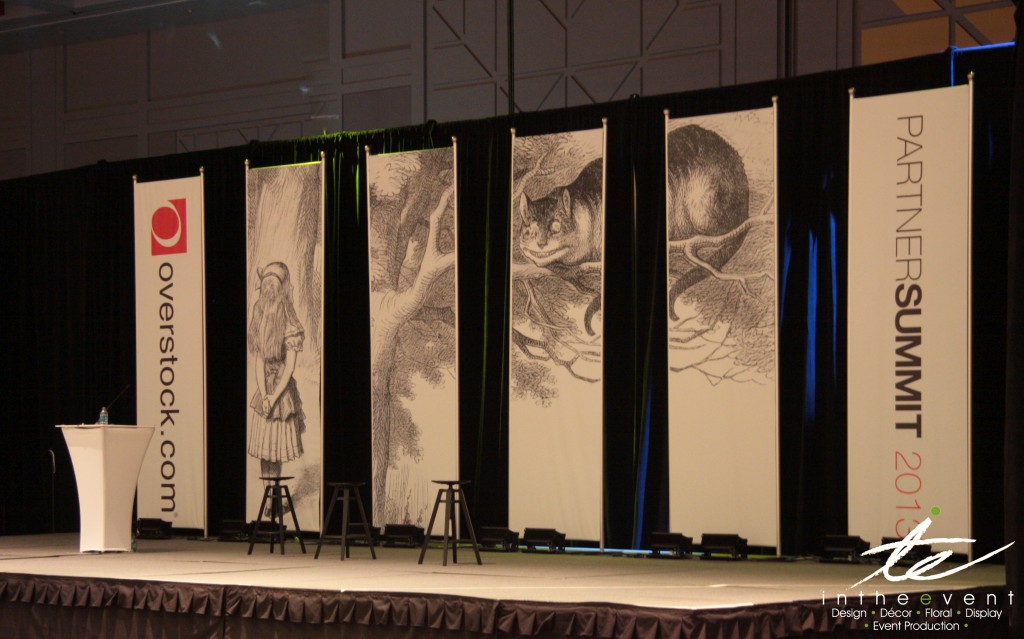 The stage was the centerpiece of this event and we planned a simple yet effective backdrop. Using our banner stands we used a vintage graphic of Alice in Wonderland that kept the backdrop static. This modern event design keeps the space open yet brings in the theme and corporate branding in a custom, unique way.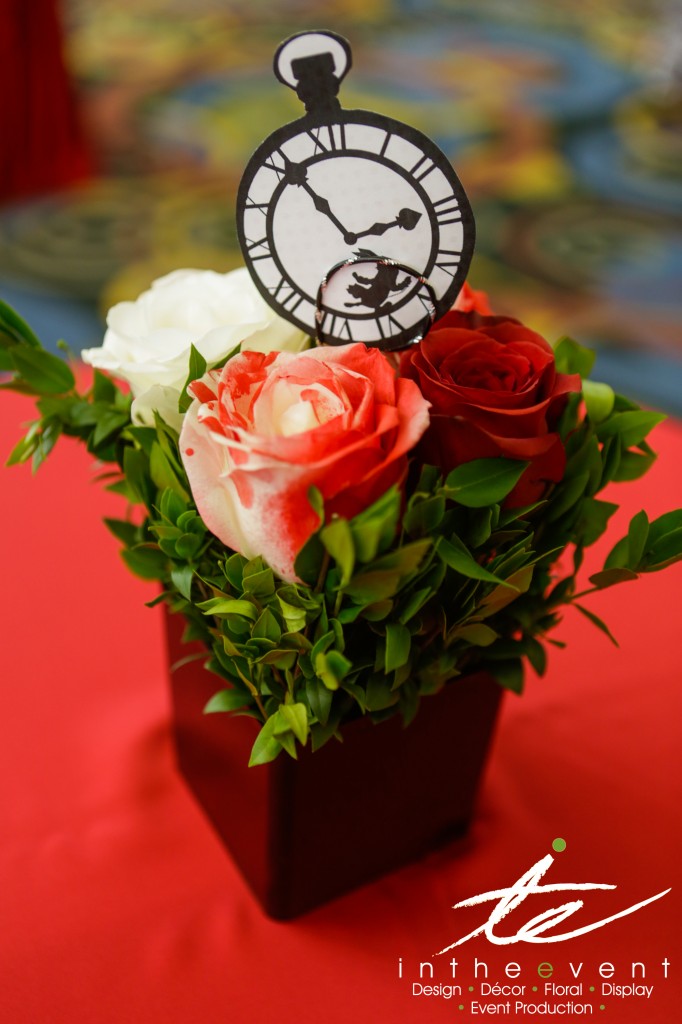 Our theme was very Mad Hatter-style and very animated! Our floral arrangements led you to believe you were in the Queens garden itself, a mix of red and white painted roses made up the centerpieces inside the oversized whimsical topiaries throughout the room (Learn more about our topiaries here). The lounge furniture was a chessboard mix of our white and black leather and the hi-boys complete with patterned linens with red accents.
The guests had a fantastic time at the event, and to remember the good times we had a special photo-op set up. A green screen accompanied by costume props let guests pose with their favorite Alice in Wonderland character. Our event décor set the mood and they really got into character. Check out how these two turned out!
For more updates and pictures of Wonderland, 'Like' our Facebook page!
Questions? Comments? Ask below!
The 2014 Porsche Cayman S was recently unveiled to the general public. This new sport version is sleek, powerful, and incorporates mass amounts of design.
Ken Garff Porsche of Orem had an exclusive reception for their top clientele to celebrate its release. Our team at In The Event™ was asked to bring our LED lighting and modern décor to dress up their showroom where they had parked the Cayman S. Their goal was to show off the new Porsche and ultimately sell it.
We designed and planned this event to have a high-energy environment. Branding is important, so we drew from the lighting concept of the '14 Porsche Cayman S's 'Code of the Curve' advertisement. The ad consists of the car blazing down a crisp blue background leaving behind a streak of red-orange light. We used these colors in our lighting to highlight the Porsche but also to enhance the event space.
The two LED walls were lit with blue and blaze red as well as branded with two different Porsche logos. It is important to be able to keep branding a priority when decorating events. The walls were a powerful mood enhancer but supportive in drawing all the guests' attention towards the Cayman S. Inevitably, the showroom was a success and the car was sold that night, proving that lighting can do amazing things for suggestive selling.
Have any questions about how our LED lighting could brighten your event? Ask or comment below.
Want to hear more from your local event planners? Sign up below for our monthly newsletter! 
We just got back from the National School Board Association's (NSBA) 73rd Annual Conference and Expo where Ketchum Midwest had reached out to us to aid in marketing their Kleenex brand's 'Back to School' campaign. Ketchum ranks amongst the largest and most geographically diverse public relation agencies and we were very excited to be working with them. The conference was attended by school board members, teachers, and school officials. The goal was to make an interactive space where guests could have fun while learning about the power of Kleenex tissue as a factor in helping making schools healthier for students. Not only did we succeed, we also took home 'Best in Show'! Check out some pictures of what won us the award!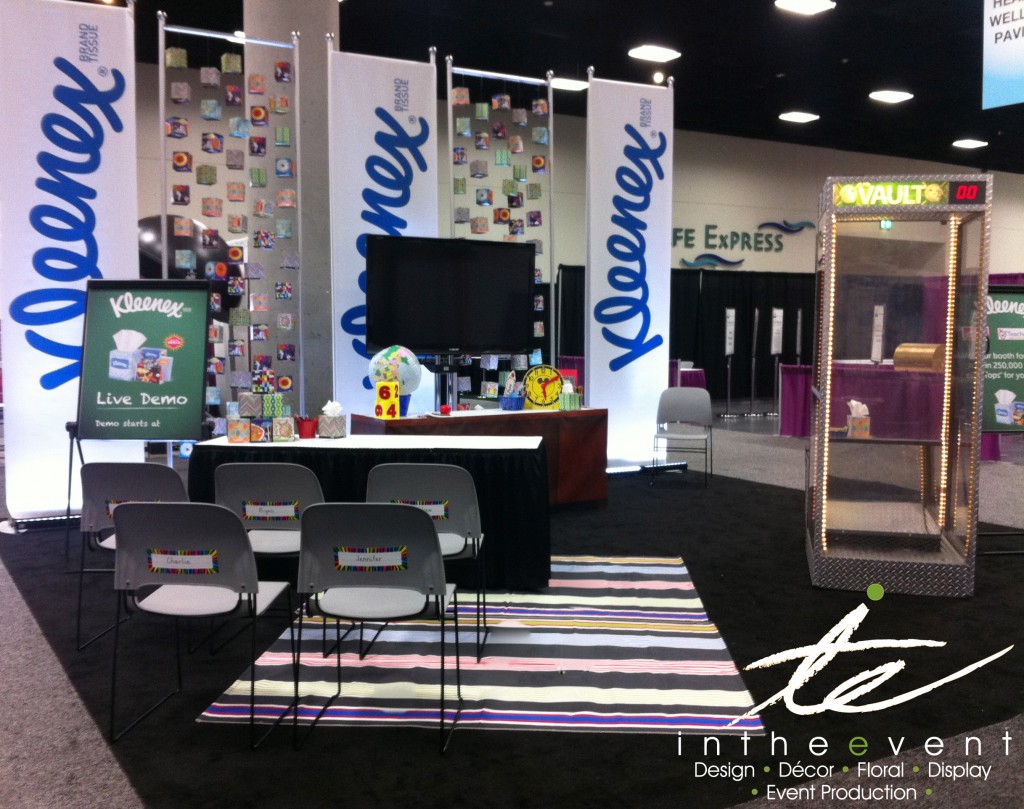 At the end of the day the kids are what matter the most. We wanted to create a statement about the Kleenex brand in the classroom and how their products would benefit them. Our booth was a 20'x20' island in the middle of the tradeshow, which was filled with other vendors. We designed a space that replicated a classroom; complete with chairs, a teachers desk, and, of course, a globe. Behind the TV, which was running the Kleenex brand's 'Shield. Sneeze. Swish.' routine were 3 banners proudly displaying the Kleenex brand Logo. Modern event decoration makes a clean event that is professional yet striking.
In between these banners was a display showing off the many variations of the Kleenex tissue box. Stringing together these 200 boxes was a labor of love but it gave the whole booth a 'Wow' factor. When creating displays, we at In The Event™ want to show off the brand while simultaneously creating something creative and artistic.
Dr. Kleenex, Dr. Andrew Bakken from Kleenex brand R&D, engaged attendees with a demonstration comparing the quality of Kleenex products to competitor products. He distributed Kleenex tissues to half the crowd and the competitor's tissue to the other half. After liquid was applied to the tissues the crowd was asked to sit down once their hand got wet. The attendees with Kleenex tissues were the last standing! They were all amazed how Kleenex tissue kept the liquid contained and not all over their hands. Attendees also had a lot of fun in the money booth, which is always a huge hit at any event.
The NSBA supplied officials to judge everyone's booths. The judging was based on professionalism, personality, guest interaction, function, and overall presentation. Our Kleenex brand booth was awarded 'Best of Show' for an island booth!
Zion's Bank of Salt Lake City called upon In The Event™ and our event planning expertise to create a reception for the MALDEF Board of Directors. MALDEF is the legal voice for Latino civil rights in America. Former assistant to President Bill Clinton and Director of Intergovernmental Affairs at the White house, Mickey Ibarra, was one of the featured quests and speakers at this reception.
For the reception we designed the décor to be vibrant! The linens were a bright citron color; the flowers were bright pinks, purples, oranges, and greens with metallic wire accents. The dining tables were laden with bright centerpieces as well as the hi-boys and accent tables. We kept the décor modern and sleek yet eye catching.
The bright colors were popping, so to offset the intense colors we added an airy vibe with white leather sofas and white modular hi-boys. We also added a personalized paper fan wall. They kept the vibrant colors alive and created a whimsical wall against the beautiful view of Salt Lake City in the background. When planning an event we strive to enhance the theme and creating a decorative wall is an easy way to achieve that.
Of course our floral centerpieces brightened the tables and the event, leaving the Board of Directors of MALDEF inspired and happy.
Have any questions about MALDEF or our event design? Comment and ask below.
We know that the conference experience can tend to be a bit tedious, so we made sure to give ZYTO a stage that would keep the attendees intrigued. Our spandex display pieces provided a completely new look for their event. Designed with Zyto's logo and graphics, it created a stunning display piece.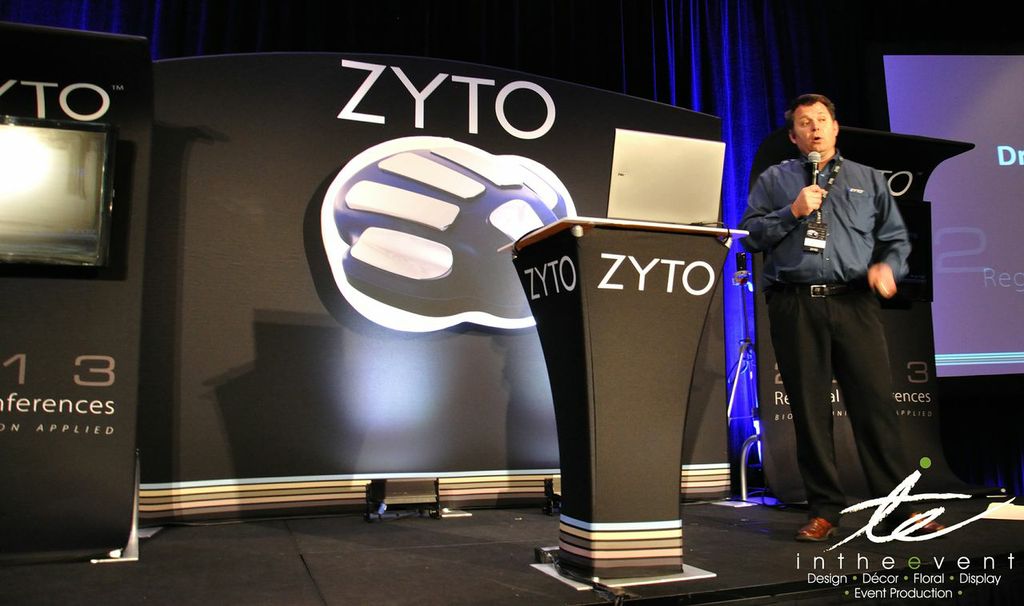 Zyto is known as the global leader in bio-communication, a science that allows a user to sense any biological or energetic changes in your body via a computer program. This allows you to see what causes stress in your body and where.
The stage we designed for Zyto was composed with banner stands, an arch wall piece, and a projection piece in the shape of Zyto's hand cradle. The dual screens allowed attendees to easily view the information no matter where they sat. The spandex display pieces are very effective for traveling and trade shows. Lightweight frames are easily assembled and broken down which saves valuable time in setting and striking an event.
In The Event™ has the ability to customize any spandex display piece with corporate branding and accessories like plasma screens, shelves, and even drawing boards. The possibilities are endless when planning an event that utilizes these customizable displays.
Some say that LED stands for 'Light Emitting Diode', but shouldn't it stand for 'Let Everyone Dance'? Disco was in the air in the Hotel Monaco Paris Ballroom, and, as planned, everyone danced the night away on our LED dance floor. Stayin' alive was no struggle for the guests of this birthday party as the DJ spun tasty jams all night long.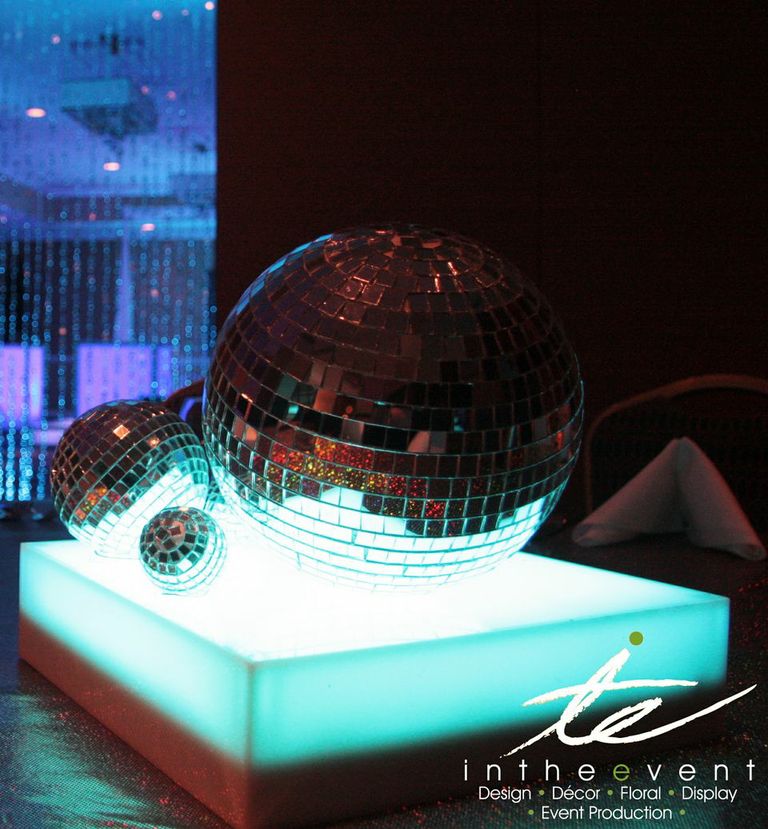 The mood was set and the disco played while our  LED lights changed with the music. The centerpiece was made with various sized disco balls, and was lit with an LED light box.. The client had provided childhood snapshots of the birthday boy growing up in the 70's, which we scattered around to add a personal touch.
Fully costumed disco dancers brought guests from their dinner and drinks into the second part of the evening. Through a shimmering curtain was a party space waiting to be danced in. The LED dance floor saw many dance moves that night. Onlookers could relax on our clean white leather sofas or mingle on LED hi-boys. We tied the whole event together with 7 feet tall shimmer chandeliers flanking the bar, a bold feature that matched the theme and the shimmering curtains perfectly. We loved planning this event, and hope everyone had a blast!
Want to know how our LED lights dance with the music? Comment or ask questions below.