Nothing gives an event an element of class the way leather furniture does. When guest walk in expecting cheap metal folding chairs or hard wooden seats, they'll be pleasantly surprised by the luxury you've created with leather loungers.
Not sure how leather furniture could work with your event? Here are a few ideas and examples from past events we've thrown where leather furniture made the event worth bragging about the next day.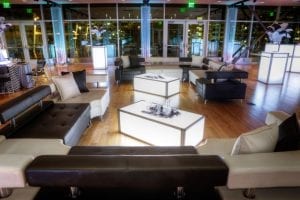 1. Create Cozy Conversation
Nothing gets people talking like a comfortable place to sit. Entertain wedding guests or invite conference attendees to mingle with a leather furniture layout. Use white and black couches to create interesting decor without much effort or mix it up with leather benches, sofas and chairs for a relaxing yet eclectic spread.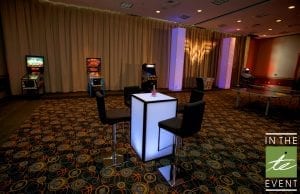 2. Bolster Your Bar
Bars are a great addition to any party. Whether you're whipping up virgin cocktails or serving delicious spirits, a bar is a great way to make guests feel catered to and get people talking.
Take your standing bar to the next level with leather bar stools that offer class and comfort while requiring little work from the busy host.
3. Liven Up the Lobby

When events are held in large conference spaces, the enormity of the room can be intimidating and make your event furniture design look small in comparison. Break up the space to add more dimension and fullness to the room.
Creating a lobby area is one way you can break up a large event space. To make your lobby stand out, add a leather lobby sofa. Guests will be able to chat casually in-between presentations, or relax while they answer a phone call.
4. Emulate a Classy Club
Leather adds a level of sophistication to any scene. That's why high-end clubs often invest in leather furniture for their VIP sections. If you want to give your guests the VIP experience, consider adding leather chairs, sofas or ottomans to your event design. You'll instantly see the caliber of your event rise to the next level.
5. Add a Thrilling Theme
Whether you want to create a rustic feel or transport guests to another decade, our themed leather furniture can do the job. Our aviator leather side chair and brown leather chair and sofa are creative pieces that add a unique element to any event.
Don't settle for less with your event furniture. Level up with sleek leather furniture that pairs perfectly with any party.
Still don't think leather furniture is right for your event? Check out our other event furniture rentals to find the perfect addition to your special day.